The 1.1 million-member National Association of Realtors (NAR) is demanding that Fair Isaac Corp., the creator of the FICO score that dominates the mortgage market, take immediate steps to lessen the credit score drop that hits consumers when banks abruptly cancel or slash credit lines of non-delinquent customers.
Milestone® Gold Mastercard®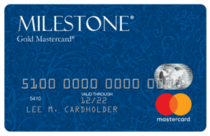 How credit scores are destroyed
This has become a common scenario these days: Customers with 700+ credit scores and no late payments are seeing their credit scores nosedive when their creditors reduce or cancel their credit lines. This can be a HELOC that gets dropped because of falling home values, credit cards that get canceled because they aren't used enough to be profitable for the card issuer, and accounts that are just too large for the issuer's comfort. If you have a $50,000 HELOC with a $10,000 balance, a $20,000 VISA with $2,000 on it, and an AmEx with a $15,000 of available credit, your utilization ratio (30% of your credit score!) is a nice low 14%. But if your HELOC is closed, your VISA drops to $10,000, and your AmEx gets canceled for non-use, your ratio increases to 60% and your score will take a significant hit.
How much does a twenty point drop cost mortgage customers?
If you take out a conventional loan from Fannie Mae or Freddie Mac, a twenty point drop can cost you as much as 1.5% in added fees. On a $300,000 mortgage that's $4,500!
What did Fair, Isaac say?
You're not going to get any love from FICO. Its director of mortgage scoring solutions, Joanne Gaskin, said the FICO model weights consumers' available credit and utilization rates so heavily because they are highly predictive of future credit problems. In fact, a study last year found that consumers who use 70 percent of their available credit "have a future bad rate 20 to 50 times greater than consumers with lower utilizations." Ignoring this key indicator, the study concluded, would decrease the score's accuracy in predicting mortgage credit problems.
And what about mortgage modifications and your credit?
Currently, credit bureaus report each modified payment as being "not paid as originally agreed" which does ongoing damage to homeowners' credit as long as they have a modified mortgage. The NAR has also asked Fair Isaac to change their scoring model to reflect the reality that the lender has agreed to lower payments and borrowers are now making payments "as agreed."
FICO representatives have not responded yet to that request.