In 2010, FHA added minimum credit scores to its eligibility guidelines for the first time. At first blush, these restrictions didn't seem too restrictive--borrowers could be eligible for FHA financing with 3.5 percent down while having credit scores as low as 580, and with 10 percent down the scores could be as low as 500! By almost any standard a 500 credit scores equals bad credit. There were sub-prime lenders in the past that would not approve 90 percent loans for people with 500 credit scores!
Milestone® Gold Mastercard®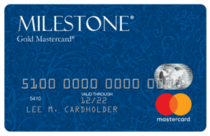 FHA loans for borrowers scoring under 600 are rare as hen's teeth
In HUD's Annual Report to Congress Regarding the Financial Status of the FHA Mutual Mortgage Insurance Fund Fiscal Year 2010 (you couldn't make up a name like that!) includes an analysis of the credit scores of FHA borrowers for the year. It states:
The share of loans with credit scores of 680 or better is 12 percentage points higher, with a dramatic decrease in the share of loans with scores in the 600-639 range, and a virtual disappearance of those with credit scores below 600.
So the fact that FHA did away with loans to borrowers with scores under 500 is not exactly going to effect a whole lot of folks--these people weren't going to get approved anyway. But some of these loans did get approved and funded. Here's the breakdown:
| | |
| --- | --- |
| Credit Score | Percentage of Loans |
| 680-850 | 57.20% |
| 640-679 | 26.70% |
| 600-639 | 14.40% |
| 560-599 | 1.10% |
| 500-559 | 0.20% |
So of the 1,661,224 FHA single-family mortgages funded in 2010, 11 of every thousand were made to people with credit scores under 600, and one in 500 went to folks with scores between 500 and 560.
So FHA loans for people with bad credit scores are not impossible to get…
Four out of five FHA-approved lenders impose overlays, meaning they require higher credit scores than FHA does, usually 620 or 640. Reportedly, one of every three Americans now has a credit score lower than 620, meaning there are a lot of people who would be unlikely to get approved for a mortgage with most lenders.
But there is good news--about 20 percent of lenders do not impose overlays, and that number is growing as community leaders apply pressure and file complaints in court.
But a bad credit score doesn't necessarily mean bad credit
Understand though that even lenders that approve home loans for people with bad credit scores don't necessarily approve loans for people with bad credit. FHA's underwriting guidelines require that underwriters examine credit histories and determine why a score is low--whether it is due to a short credit history, a bankruptcy a few years ago, or habitual poor money management. If your credit problems were over years ago and you have been paying your bills on time, or if you can prove your credit blemishes were not your fault, you have a shot. If you just can't say no to $400 shoes or a boat you can't afford, you probably won't get a mortgage.