Credit repair companies will tell you they can quickly fix your credit, but unfortunately you may find it will take some time to rebuild your credit if you have debt problems or bad credit. In 2012, according to Ellie Mae, the average credit score for an approved mortgage was 748. The average credit score for a denied mortgage was 704, although there are likely to be multiple possible reasons for a mortgage loan denial.
Indigo® Platinum Mastercard®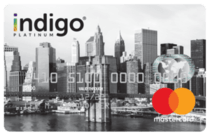 Every case is individual, though, so before you give up on applying for a mortgage or trying to fix your own credit problems, consult with a lender who can give you personalized advice.
Complete the form on this page to find out about your options for a bad credit home loan.
Bad credit lenders can help you figure out what you need to do in order improve your credit and your finances, but in the meantime you can work on your own credit repair.
Four credit repair steps
Check your credit report for errors. Every year you should request your free credit report from all three credit reporting bureaus. Start the process to fix any errors on the report and carefully review negative information so you know what issues you have to address.
Consider a debt consolidation loan. If you are a homeowner with at least 10 or 20 percent or more in home equity, you may qualify for a debt consolidation loan. You can pay off credit card debt or other loans with your home equity, usually at a far lower interest rate. But beware: you are tying your debt to your home and if you can't make your payments you will lose your home.
Try refinancing. If you don't have enough home equity for debt consolidation, you may want to refinance to reduce your monthly payments. You can use the extra cash to pay down your debt.
Consider credit counseling. Find a reputable credit counselor through the National Federation of Credit Counseling who can help you prepare a budget and determine whether a debt management program is necessary.
Improving your credit score can take time, but as you reduce your debt and pay your bills on time your score should increase along with your ability to qualify for a new mortgage.